Atlanta at Cleveland (-10.5)
Cleveland. I have a theory that I would rather have any other starting point guard in the NBA than Eric Snow. Rather than just glossing over some rosters and making up my mind in 4 minutes, I'm going to compare Snow to his counterpart each night. Tonight he goes against Speedy Claxton, who is the complete opposite of Snow, which makes him better. 1-1.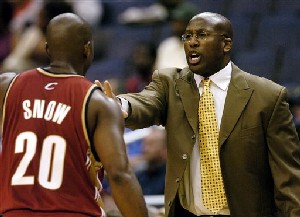 What is the appeal of Snow anyways? Its not like he's guarding anybody. Here's Charley Rosen: "Eric Snow can no longer remember when he was able to play acceptable defense." He can't score. He's not exactly penetrating and getting people the ball. He's just out there. Imagine doing this in any other line of work. I just don't get it.

Philadelphia at Indiana (-4.5)
Indiana. Philly is starting out on fire, aren't they? They're gunning for Surprise Team of the Year right out of the gate. I've got a sneaking suspiscion that Indiana is that team, though. We'll see tonight.

Seattle at Miami (-4.5)
Seattle. I really don't get why Seattle is so bad. They have the best shooter in the league, one of the best rebounders, a versatile inside-outside threat, a point guard who can push the ball and find people. Oh, they have absolutely no one inside? Well then, Shaq should get the Heat the win. Wait - Shaq is faking a knee injury so he only has to play 30 games this year? Oh. Well, no Daddy inside means Miami loses its prime advantage over Seattle. And a percieved weak opponent flying cross-country seems like exactly the team the Heat really could care less about.

And I'm really glad I drafted Shaq on my fantasy team. He'll look really god at the end of my bench. Lazy bastard.


Houston (-4.0) at Memphis
Houston. I bet Rudy Gay and Hakim Warrick goofing around after practice is really fun to watch. They should be teammates in the dunk contest. Those two should make one of those Powerade commercials where they are dunking from half court and jumping over the backboard and shooting through the rim without disturbing the net (they are freakishly athletic, but they are still skinny as hell).

The Rockets are just going to out talent the Grizz, though. Yao doesn't know you are allowed to take every third night off in the NBA without anyone questioning you.

Golden St. at NOOCH (-7.5)
NOOCH. Let down game after upsetting the Mavs. Plus, I like saying NOOCH!

Minnesota at LA Lakers (-8.0)
Minnesota. Eight points seems like too much, especially with Kobe not at 100% and Lamar & Co. still trying to figure out how to play with Kobe. If those two ever get on the same page, watch out.

Last night: 4-2-1. Season: 16-13-2.